Dominic Edwardes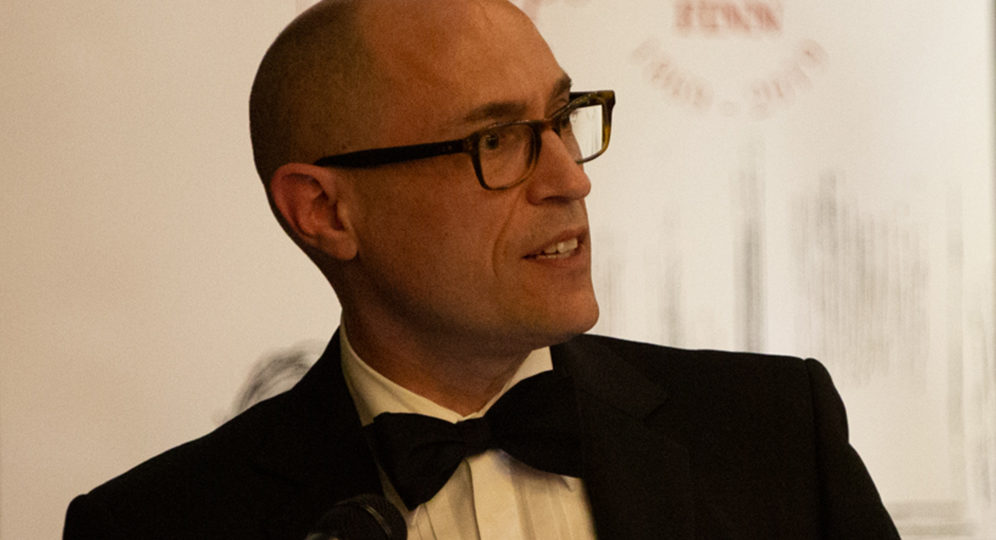 Dominic Edwardes
Trollope Society Chair
Tell us a bit about yourself
I studied Philosophy at the University of Dundee and began my career working in the marketing department for Routledge, one of Trollope's original publishers.  I then moved on to work for a national charity, Terrence Higgins Trust, where I am the Director of Communications.
The world has been transformed in the last twenty five years, with websites and social media giving us new ways to share information and make connections. I've been fortunate to work in this area, running health campaigns and building websites, and have been able to use these skills to support the Trollope Society.
How did you discover Trollope?
My first encounter with Trollope was a BBC adaptation, the 1982 production of The Barchester Chronicles, which covers the first two novels of the Barsetshire series, The Warden and Barchester Towers. The series had a magnificent cast, including Nigel Hawthorne, Donald Pleasence, Geraldine McEwan, Alan Rickman, Clive Swift and Susan Hampshire. The series was a great success, and it's a pity that the BBC didn't go on to adapt the remaining four Barsetshire novels.
It was years later that I began to read Trollope. When I first moved to London after university, I worked for Waterstone's Booksellers in Kensington High Street. Penguin Books had recently published a paperback edition of the complete novels of Anthony Trollope, and the Penguin sales rep gave me a copy of Barchester Towers. From then on, whenever I was at a loss for something to read, I reached for a Trollope. In fact, after a while, all I reached for was Trollope.  I read them in no particular order, just whichever novel came to hand. The relationship the reader establishes with the author is what sets Trollope apart for me; together with his deep understanding of people's motivation, his extraordinarily real characterisations and his sense of humour. I think that this is why Trollope lovers can be so passionate about 'Our Author'.
As I read his novels one after another in quick succession, the loves and ambitions of Phineas Finn, the rivalry of the Grantlys and Proudies, the struggles of Plantagenet Palliser and the death of Lady Glencora were all real to me. I became somewhat evangelical about Trollope and gave away twenty copies of Barchester Towers to people who had not read Trollope, asking them to give him a try and let me know what they thought. Almost everyone told me that they had enjoyed reading the novel, and that it was not what they had expected. In 2006 I built new website, www.anthonytrollope.com, with details of all 47 novels and 1,500 characters to try and encourage people to pick up a Trollope.
What is your involvement with the Trollope Society?
My first involvement with the society was in 2004 when I attended a conference held at the University of London. The members of the society made me feel instantly welcome, and I was delighted to find so many people who shared a love of Trollope.  BBC TV was about to broadcast Andrew Davies' adaptation of He Knew He Was Right, and both Andrew Davies and the star of the show, Anna Massey, came to the conference. You may recall that Anna Massey played Lady Laura Kennedy in the 1974 adaptation of The Pallisers, so it was particularly apt that she was returning to Trollope to play Aunt Stanbury. The cast also included Bill Nighy, Geoffrey Palmer, Geraldine James and David Tennant. The conference was a great success, and concluded with a discussion about which Trollope novel should be adapted next. I recall that The Vicar of Bullhampton was a popular choice, but sadly never made it to the screen.
In 2006, Priscilla Hungerford, who was Chair of the Society at the time, hosted a glorious summer garden party. The invitations stated that fancy dress was optional, so I went to a theatrical costumiers and hired the garb of a mid-Victorian clergyman, complete with shovel hat and gaiters. I arrived at the garden party feeling myself to be the very picture of Archdeacon Grantly, only to be taken by everybody to have come as Mr Slope!
It was also in around 2006 that David Glass (who is now the Treasurer of the Society) and Priscilla Hungerford invited me to join the Committee with responsibility for the design, production and mailing of the Society's magazine, Trollopiana. I have now worked on more than thirty issues, initially with Pamela Barrell as Editor, and more recently with Mark Green. The Society is remarkably fortunate to have such dedicated members who give up their time and work hard to plan visits, dinners and even holidays, hold seminar groups, run the website and our social media, and do all this as volunteers. If anyone would like to become involved in helping to run the Society, please email us at info@trollopesociety.org
The bicentenary of Trollope's birth in 2015 was a milestone for the Society. Michael Williamson, who was Chair at the time, worked tirelessly to make the bicentenary a success. The year kicked off with a worldwide balloon release to mark the start of the anniversary celebrations, and included a magnificent dinner at The Athenaeum in London, and a memorial service at Westminster Abbey to commemorate Trollope's death in December. As part of the anniversary the Society launched our new website, which merged with the anthonytrollope.com site. I was fortunate to work on this project, along with other members of the Committee, and am proud that the Society has an up-to-date, user friendly and fully mobile website. The site includes the complete books and character database, events calendar, ticket and book sales, as well as a wealth of information on the life and works of Anthony Trollope.
In April this year Michael Williamson stepped down after ten years as Chair. The Society owes him a great debt of gratitude for his work and leadership, and for ensuring that the Society is in a strong position to continue its work. As the new Chair I am immensely grateful for Michael's continuing support, and somewhat daunted at the prospect of stepping into his shoes.
What format of books, TV or radio adaptations do you enjoy most?
Television and radio adaptations serve as a great introduction to Trollope. In recent years the BBC have produced several new radio adaptations, including The Pallisers in 2008 and The Barsetshire Chronicles in 2014. We are also extremely fortunate that Julian Fellowes, who is the Society's President, produced Doctor Thorne in 2016, introducing Trollope to millions of viewers across the world. I hope that some of these have gone on to pick up a Trollope and discover the pleasure of reading the novels. For me this is an incomparable experience and one which the Society encourages through its work.
Why do you think that Trollope is relevant today?
Trollope remains relevant today because although there have been great changes in society and in the way that we live our lives, Trollope writes about people, about their motivations, their trials and tribulations, about love and loss, and about the mixture good and bad that is in all of us. These things don't change, and Trollope's remarkable insight into the psychology of his characters is as true today as when he first put pen to paper.
Do you think that there are any typical Trollope fans? If so, what are they like?
People from all walks of life read and enjoy Trollope and part of the Trollope Society's mission is to encourage this. We have members all over the world, from young to old, all connected by an enjoyment of, and an interest in the life and works of Anthony Trollope. Aside from members of the Society we have also reached thousands of people through Facebook and Twitter. A typical fan is likely to have reached middle-age and we have slightly more women than men as members. Whether young or old, whether new to Trollope or a lifelong enthusiast, everyone is welcome in the Society.
Do you attend any seminars groups or events?
Attending seminar groups and events is one the most enjoyable part of being a member of the Trollope Society. Over the years I have made good friends in the Society and have many happy memories of events. In 2007 I joined the Society's Trip to Ireland, and it remains to this day one of the most enjoyable and memorable trips of my life. We toured the length and breadth of Ireland, from Dublin to Connamara, from the Cliffs of Moher, to Killaloe. Everywhere we went we were met with extraordinary warmth and at Drumsna the entire village turned out to welcome us, and to our great surprise to screen a film that they had come together to make of The Macdermots of Ballycloran. We have a continuing strong connection with the people of Drumsna, many of whom are now members of the Society and regularly attend events.
I regularly attend the London Seminar Group. It's a friendly relaxed way to meet other Trollope fans, and to learn more about Trollope's life and works. We meet roughly quarterly, and one member of the group leads a discussion on a novel, a theme or an aspect of Trollope's life. 'Trollope's Women', 'The Civil Service' and the 'Victorian Clergy' have all been topics. I recently led the group's discussion on The Bertrams, a remarkable novel set in part in Alexandria and Jerusalem. Trollope's travels and international writing will be the subject of a one day conference, 'Worldwide Trollope' which the Society is holding at the National Liberal Club in London on Friday 22 June. Everyone is welcome, and if you are considering joining the Society it will be a great way to meet members and learn about Trollope's travels.
What do you think the future holds for the Trollope Society?
The Society was established over thirty years ago with the objective of publishing the complete works of Trollope. Once this major undertaking was completed the Society adapted to become focussed on reading, seminar groups and bringing members together through a programme of events.
Nowadays Trollope is more accessible than every before, in addition to the beautiful Trollope Society Complete Edition, there are paperback editions and free e-texts to download for reading on a Kindle. The Society has an important role to play in promoting Trollope and encouraging new readers, to support the study of Trollope through lectures and publishing in Trollopiana, and in bringing people who enjoy Trollope together.
---
Main photo: Dominic Edwardes at the Trollope Society dinner at Lincoln's Inn, April 2019.