The Production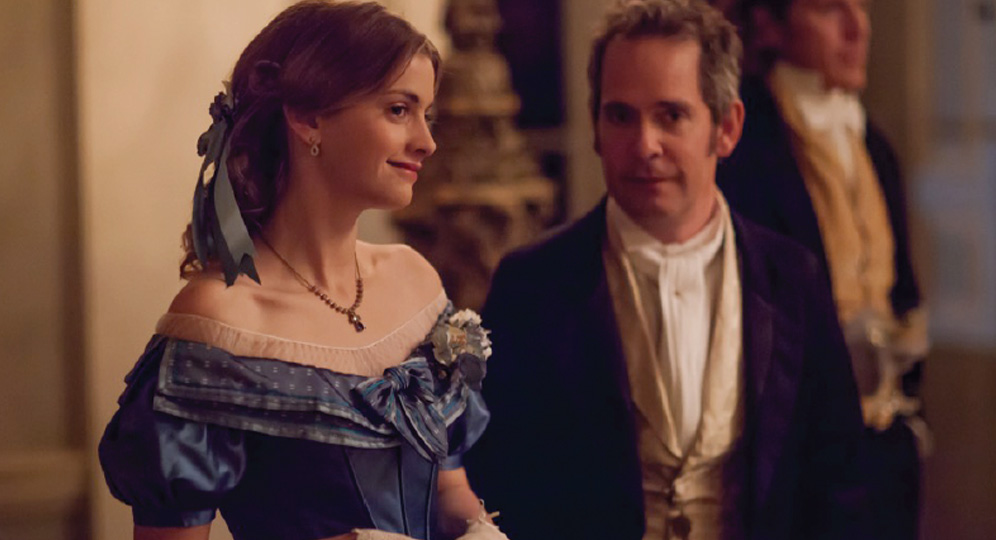 Tom Hollander, Rebecca Front and Ian McShane star in Doctor Thorne, adapted for ITV by Academy and Emmy Award-winning Downton Abbey creator Julian Fellowes, from one of his favourite novels by Anthony Trollope.
The cast also includes Alison Brie, who played Trudy Campbell in the acclaimed US series Mad Men, Olivier and Tony award winner Richard McCabe (Indian Summers, The Great Fire, Peaky Blinders), Phoebe Nicholls (Jonathan Strange & Mr Norrell, ForBtude, Downton Abbey), Gwyneth Keyworth (Game of Thrones, Misfits), Kate O'Flynn (No Offence, Ordinary Lies), Edward Franklin (The Brain Hack, Doctors) and introduces two newcomers Stefanie Martini and Harry Richardson.
Tom Hollander (Rev, A Poet In New York, Pirates of the Caribbean) takes the role of Dr Thomas Thorne, who lives in the village of Greshamsbury in Barsetshire with his young niece, Mary (Stefanie Martini), a girl blessed with every gift except money.
Mary Thorne has grown up alongside the Gresham family, whose house, Greshamsbury Park, and status dominate the county. With Francis Gresham Senior (Richard McCabe) having frittered away the family fortune, however, his wife, Lady Arabella Gresham, played by Rebecca Front (War and Peace, Humans, Lewis, The Thick of It), their daughters Augusta (Gwyneth Keyworth) and Beatrice (Nell Barlow), and their handsome brother Frank (Harry Richardson) face losing their home.
When the terrifying Lady Arabella Gresham discovers that her darling son, Frank, has fallen in love with Dr Thorne's penniless niece, she is horrified. Her husband Gresham is only being kept afloat by very favourable loans that Dr Thorne has secured from a railway millionaire, Sir Roger Scatcherd, played by Ian McShane (Ray Donovan, Pirates of the Caribbean, The Pillars of the Earth). However, Sir Roger is drinking himself into an early grave and the family's financial future lies with his unreliable son Louis Scatcherd (Edward Franklin).
Lady Arabella believes it is her son's duty to make a rich marriage to save the family estate and launches a campaign to secure her son an heiress for a bride, aided by her scheming sister in law, the very grand Countess De Courcy (Phoebe Nicholls) and her conniving niece Alexandrina De Courcy (Kate O'Flynn). Their target is wealthy American heiress Miss Martha Dunstable (Alison Brie).
Cressida Bonas (Tulip Fever) is also cast as Mary's friend and confidante, Patience Oriel, and Danny Kirrane (Critical, Trollied), appears as Lady Augusta's wealthy but ill‐mannered fiancé, Mr Moffatt. Janine Duvitski (Benidorm, This is Jinsy, Little Dorrit) is cast as Lady Scatcherd and Tom Bell (Humans, Ludus) as Lord Porlock.
The director is Niall McCormick (The Long Walk to Finchley, Complicit, The Game) and the producer is Helen Gregory (Case Histories, Cider With Rosie).
Doctor Thorne has been commissioned by ITV's Director of Drama, Steve November, and Controller of Drama, Victoria Fea.
The three‐part drama is produced by Hat Trick Productions.
Doctor Thorne is executive produced by Julian Fellowes with Hat Trick's Head of Drama, Mark Redhead (Critical, The Suspicions of Mr Whicher, Case Sensitive), Harvey Weinstein, Bob Weinstein, Christopher Kelly and Ted Childs.