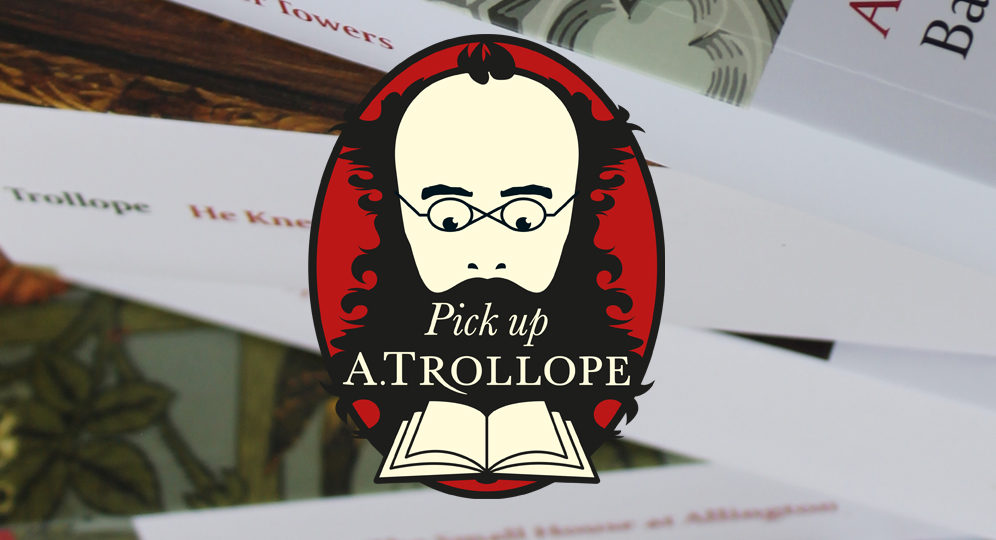 Julian Fellowes – Sir John Major – Joanna Trollope – Prue Leith – Francesca Simon
Famous fans support campaign to vote for world's favourite Anthony Trollope novel
Vote launches 1 October
Global online book club for winning novel
#PickUpATrollope
On Thursday 1 October, The Trollope Society launches a campaign, "Pick Up A Trollope", to vote for the world's favourite Anthony Trollope novel, with the support of notable 'Trollopians'.
Trolllope was one of the great novelists of the Victoria era. His books, including The Warden and Barchester Towers, were bestsellers in their day and have been loved ever since by generations of readers. There have been numerous radio and television adaptations of the novels including The Way We Live Now, The Barchester Chronicles and Doctor Thorne.
Now fans are being asked to choose their favourite title from a list of nine books, chosen by famous Trollopians. They include Julian Fellowes – The Lord Fellowes of West Stafford; the novelist Joanna Trollope; former PM Sir John Major; cook, novelist and television presenter Prue Leith; and Francesca Simon, author of the Horrid Henry series of children's books.
Voting for the "Pick Up A Trollope" campaign takes place throughout the month of October via the Trollope Society website www.trollopesociety.org. The winning book will be announced on 1 November. The Trollope Society will then host an online reading of that title, bringing together fans from around the world for a truly global book club.
The complete list of celebrity supporters and the book they will be championing is:
Sir John Major – The Way We Live Now
Jeffrey Archer – The Prime Minister
Julian Fellowes – The Duke's Children
Ken Follett – Orley Farm
Susan Hampshire – Barchester Towers
Prue Leith – He Knew He Was Right
Joanna Trollope – Miss Mackenzie
Gyles Brandreth – The Small House of Allington
Francesca Simon – The Last Chronicle of Barset
Julian Fellowes – President of the Trollope Society said: "The works of Anthony Trollope are as relevant today as when they were first published. His novels transcend time so that they speak to a 21st Century audience as eloquently as they did their first readers 150 years ago. As we look to literature to make sense of the world we urge readers to 'Pick Up A Trollope' and discover – or rediscover – the classic works of one of our greatest English novelists. We are asking everyone to vote for the novel that they would like to feature in a truly global book club, and join us to read the winning novel online."
As well as writing 47 novels, numerous short stories, magazine articles and a wealth of non-fiction, Anthony Trollope worked for the Post Office for over 30 years and introduced the pillar-box to the UK. He was one of the most widely travelled men of his age, negotiating postal treaties across the world. Today his books are widely read across the world and his admirers over the years have included Queen Victoria, Harold Macmillan, Tolstoy and Henry James.
The Trollope Society has partnered with WHSmith and Oxford University Press on the campaign. A range of Trollope titles, published by Oxford World's Classics, will be available to order from WHSmith.co.uk with a buy-one-get-one-half-price offer.
A booklet featuring excerpts from the favourite books of celebrity supporters will be available to download from the Trollope Society website, and a free printed version will also be available.
The campaign also coincides with the publication by Oxford University Press of a restored version of The Duke's Children, first published in 1879. It features previously cut material which was removed from the original book.
The campaign is supported by funding from the Coronavirus Community Support Fund, distributed by the National Lottery Community Fund grant to help reduce isolation in older people by providing a shared online reading experience, and to support digital skills in older people by using technologies such as Zoom and Whatsapp.
ENDS
For further information contact: Jane Acton
E: jane@janeactonpr.co.uk / 07971 661576
Notes to Editors
Julian Fellowes, President of the Trollope Society, author Francesca Simon, and Dominic Edwardes, Chair of the Trollope Society are available for interview
Voting opens on 1 October and the winning novel will be announced on 1 November
Images are available on request
Further information about Anthony Trollope and a complete list of his works can be found at www. trollopesociety.org
TEN TROLLOPE FACTS
Anthony Trollope wrote for three hours every morning from 5-8am, and then went to work. He paid a servant £5 extra a year to wake him up with a cup of coffee.
Trollope introduced the pillar box to Britain. The first one was in St Helier, Jersey, and was hexagonal and green.
The setting for Radio 4's The Archers, Borsetshire with its county town of Borchester is based on Trollope's imaginary county of Barchester and it's cathedral city of Barchester.
Trollope was one of the most widely travelled men of his age. His Post Office work took him across Britain, Europe, the Middle East, Egypt, the Caribbean and South Africa. He visited the West Indies, South America, the United States, Australia and New Zealand; and everywhere he went he wrote.
Writing to her mother, Queen Victoria, in 1858, she said, "I like Barchester Towers very much, it makes one laugh till one cries, it is so very true; but I think it mischievous and rather wicked".
Tolstoy said of Trollope, "Mr Trollope kills me, kills me with his excellence".
There are no South or North East postal districts in London, following Trollope's reorganisation of the London postal service.
 Trollope's mother, Fanny, was a famous author of her day, writing the bestselling The Domestic Manners of the Americans.
Trollope's mother took most of her family to a utopian community, Nashoba Commune, in the United States, where she planned to reform the education of African American children and the formerly enslaved. Anthony was left behind with his father in London.
In 1834 the Trollope family fled to Belgium to avoid being arrested for debt. The whole family moved to Bruges, where they were entirely dependent on Fanny's earnings as a writer. His father's health failed and a year later he died, so too did Anthony's siblings, Henry and Emily, of consumption.