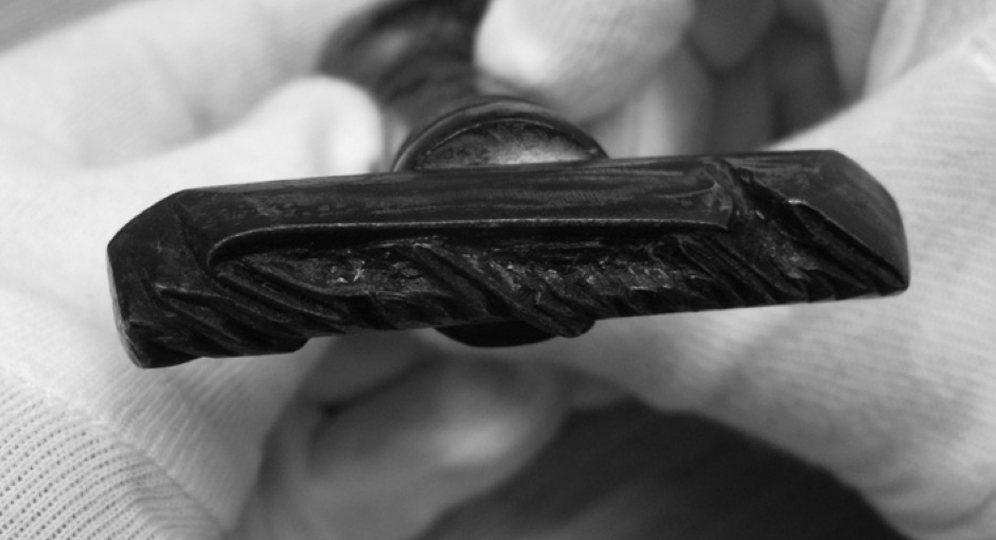 I wished, from the beginning, to be something more than a clerk in the Post Office (Autobiography)
Although Anthony's early period in the Post Office was not a particularly happy one, this was largely caused by his family circumstances and his relative isolation as a young man in London. As his career progressed from junior clerk to District Surveyor, he became enthusiastic about his work and took a great pride in the many new developments that were being introduced. He was able to contribute ideas and influence change and he seems to have enjoyed this very much. Throughout his life he would often use his past experiences within the Post Office as background information within his writing and there are, literally, hundreds of examples of this.
Within The Three Clerks each of the three young men working for the Civil Service display some of Trollope's own characteristics as a young man and some of their experiences are based on Anthony's own. The landlady, sweeping into Charley's office and demanding when he intended to marry her barmaid, recalls one of Trollope's more embarrassing memories. Also in The Three Clerks, Trollope introduces Sir Gregory Hardlines and Sir Warwick Westend as thinly disguised versions of Sir Charles Trevelyan and Sir Stafford Northcote who were busy tackling the evils of patronage in the Civil Service and promoting the value of appointment on the basis of rigorous examination. The chapter, The Civil Service, in this novel is a distraction that contains many of Trollope's own views about its current operation and he was to deliver lectures and write essays on the subject. He took part in the Committee of Enquiry of 1860 set up to investigate the claims by the Times of the shortcomings of the Post Office.
In Marian Fay, one of the heroes, George Roden, is a clerk in the Post Office who has become a close friend of Lord Hampstead, and the young Lord introduces him to his sister, Lady Frances, resulting in an 'inappropriate' love affair. Fortunately Roden's parentage is not all it seems which eventually produces a happy ending. In many ways this plotline parallels Anthony's long friendship with John Tilley, also from the Post Office and his introduction to and later marriage with Anthony's sister, Cecilia. Also, in Marian Fay, Trollope produces a rather harsh characterisation of the former Secretary, Lt Col William Leader Maberley with whom he often disagreed. Recreated as the 'windbag' Sir Boreas Bodkin, Anthony was perhaps getting his own back. Several chapters in Marian Fay take place in a clerks' office in the Post Office where Anthony had spent much of his time copying minutes.
In other novels, odd references reveal his inside knowledge about the Civil Service in general and the Post Office in particular. John Eames' career in the Civil Service in The Small House at Allington in some ways reflects that of Trollope and Mrs Crump, the Postmistress at Allington is loud in her condemnation of regional inspections which became one of Anthony's responsibilities..
Mrs Proudie in Barchester Towers condemns Sunday deliveries while, in many novels the timing of the delivery of a letter or a telegram can influence the plot. In The Way We Live Now Marie Melmotte's elopement is foiled by a telegram. In Castle Richmond, Mr Somers's letter leaves Ireland after Herbert Fitzgerald's departure but reaches London before him.
In He Knew He Was Right Miss Jemima Stanbury heartily distrusts the newly constructed pillar box outside her front door and insists that her letters are always delivered to the local post office. The times of delivery are sometimes the subject of remark with Nuncombe Putney suffering the delays of the wooden legged postman on a donkey contrasting with the Marquis of Brotherton's assertion that his brother, Lord George, should have been a postman because of his preference for long walks in Is He Popenjoy.
In John Caldigate much of the resolution of the plot ultimately depends on whether a letter was sent on a particular date. Samuel Bagwax, Post Office clerk, is finally able to spot a flaw in the evidence which rather reflects on the honesty of the Sydney Post Office for which Trollope later apologised.
On several occasions Anthony was required to attend Court when his inspections had uncovered misdemeanours in local post offices and this gave him experience for his own dramatic courtroom scenes and legal characters such as Mr Chaffanbrass.
However, perhaps the greatest influence of Trollope's work upon his writing was the opportunity it gave him for travel, both within the United Kingdom and on missions for the Post Office abroad. He worked in all the Districts of Ireland and it was there that his visit of inspection to a local post office inspired his first book. His extensive travelling around the World produced several travel books and his detailed knowledge of many parts of England enabled him to write convincingly about fictional locations set within real geographical areas.
Trollope was undoubtedly proud of his work for the Post Office and it continued to provide him with a never-ending source of valuable material.
Notes to Editors
Trollope began working for the Post Office aged 19
Trollope's novel 'The Three Clerks', is broadly autobiographical
A number of Trollope's novels include details of the Post Office
The plot of Trollope's novel 'John Caldigate' turns on a postage stamp
Contact
Dominic Edwardes
Email press@trollopesociety.org