Barchester Towers voted world's favourite Anthony Trollope novel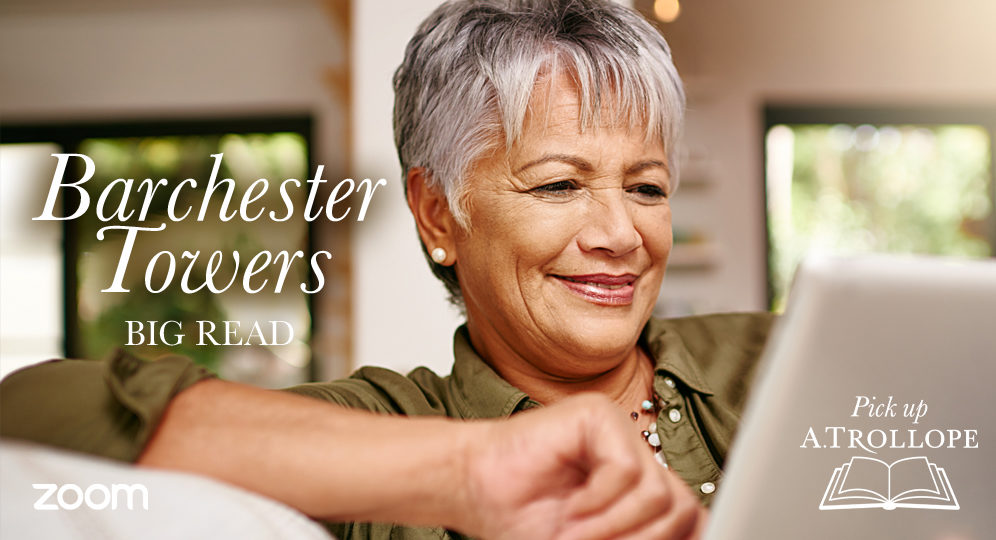 Fans of Anthony Trollope have voted Barchester Towers their favourite novel in a campaign by the Trollope Society to encourage more readers worldwide to "Pick-Up-A-Trollope".
Barchester Towers was one of nine books being championed by famous 'Trollopians' and was the choice of the British actress Susan Hampshire, who played La Signora Madeline Vesey Neroni in the well-remembered 1982 television dramatisation of The Barchester Chronicles.
Over 1000 votes were received from 29 countries. The greatest number of votes came from the UK and USA, but fans also joined in from Lucknow in Uttar Pradesh, St. Petersburg and Bethlehem. Barchester Towers received 26% of the votes, followed by The Way We Live Now at 15% and The Small House at Allington at 12%.
The winning novel will be read online worldwide in the "Pick-Up-A-Trollope Big Read", bringing Trollope enthusiasts together every two weeks for a truly global book club, from 9 November 2020 to 4 January 2021.
Published in 1857 Barchester Towers, is the second novel in Trollope's series known as the Chronicles of Barsetshire – the first being The Warden. It charts the struggle for control of the fictional English diocese of Barchester. The arrival of a new bishop in Barchester, accompanied by his formidable wife and ambitious chaplain, Obadiah Slope, sets the town in turmoil as Archdeacon Grantly declares 'War, war, internecine war!' on Bishop Proudie and his supporters.  It is widely considered to be the book that made Trollope's reputation although initially rejected by his publisher, Longman, for being 'coarse and repulsive'.
Julian Fellowes – President of the Trollope Society said:
In these extraordinary times through which we are living, it is not surprising to me that many are seeking solace and escape through reading. The Trollope Society's Pick-Up-A-Trollope initiative not only addresses that need but offers a way for individual readers to come together in a shared experience through regular online discussions, tackling head-on the sense of isolation which so many of us are experiencing as we comply with the requirements that prevent normal social interaction.
Susan Hampshire CBE said:
I am delighted that so many people have voted Barchester Towers as their favourite Anthony Trollope novel. It is the most wonderfully funny and satisfying read. Its cast of characters include some of the most memorable in all his books and they experience the full range of human emotions from grief to jealousy, to anger and love. They offer so much for everyone to discuss in the online book club meetings that the Trollope Society will run.
While contemporary writers such as George Eliot, Charlotte Brontë, Thackeray, Dickens, and Hardy 'antedated' the action of their narratives, Trollope broke the mould by setting Barchester Towers firmly in the present, resonating with current affairs. Much of the book was written on trains using a homemade tablet desk while Trollope was travelling for the Post Office where he worked for over 30 years.
In An Autobiography Trollope famously wrote, "Perhaps I may be assuming upon myself more than I have a right to do in saying now that Barchester Towers has become one of those novels which do not die quite at once, which live and are read for perhaps a quarter of a century."
Today his books are widely read across the world and his admirers over the years have included Queen Victoria, Harold Macmillan, Tolstoy and Henry James.
The online Pick-Up-A-Trollope Big Read begins on Monday 9 November and takes place every two weeks until Monday 4 January. John Bowen, Professor of Nineteenth-Century Literature at the University of York and editor of the Oxford World's Classics edition of Barchester Towers, will introduce the novel in the first reading group and lead a seminar on the whole novel for the last session.
Registration for the online read, which is free, is via the Trollope Society website.
The campaign is supported by funding from the Coronavirus Community Support Fund, distributed by the National Lottery Community Fund grant to help reduce isolation by providing a shared online reading experience, and to support digital skills in older people.
Other notable Trollopians who took part in the 'Pick Up A Trollope' campaign include Francesca Simon, Sir John Major, Jeffrey Archer, Ken Follett and Prue Leith.
ENDS
For further information contact: Jane Acton
E: jane@janeactonpr.co.uk / 07971 661576
Notes to Editors
Images are available on request
Further information about Anthony Trollope and a complete list of his works can be found at www. trollopesociety.org