Online Dramatic Reading ~ The Shilly-Shally Affair
–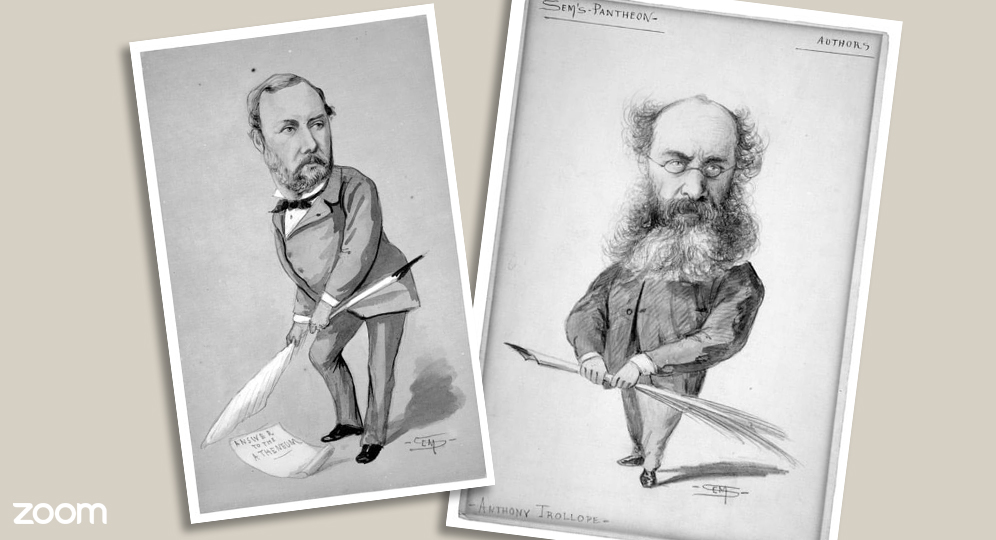 A dramatic reading of a play by Barbara Lauriat
When Anthony Trollope's autobiography was published posthumously in 1883, his son exercised his right under the instructions left by his father to omit, but not alter, parts of the work. One of the few omissions related to Charles Reade's unauthorized dramatic adaptation of Trollope's novel Ralph the Heir while Trollope was away in Australia in 1871-2. At the time, Trollope was incensed to discover that Reade—a novelist and dramatist who had himself suffered at the hands of unauthorized adaptors — had written the play and sold it to John Hollingshead at the Gaiety theatre. He was even more outraged when critics accused the play of indecency. Trollope and Reade's notorious falling-out over the incident brought further attention to the question of whether the law should prevent unauthorized adaptations and led both of the men to lobby for copyright reform.
Dr Barbara Lauriat, Senior Lecturer in Law at King's College London and member of the Trollope Society, has published two academic pieces based on her archival research on the relationship between Reade and Trollope and its legal and literary implications:
Barbara Lauriat, "The 'Shilly-Shally' Affair," 72 Princeton University Library Chronicle 713-732 (2011).  Republished in an abridged form in Issue 93 of Trollopiana (Autumn 2012).
Barbara Lauriat, "Charles Reade's Roles in the Drama of Victorian Dramatic Copyright," 33 Columbia Journal of Law and the Arts 1-36 (2009).
Special recording
A dramatic reading of The Shilly Shally Affair was performed in January 2020 at The Athenæum in London. Barbara will be giving a short talk introducing the background of the dispute, which will be followed by a specially recorded dramatic reading of her one-act play. There will also be time for questions before the evening concludes.
The cast
We are pleased to announce that the cast of our recording of "The Shilly Shally Affair" will include: media law solicitor Mark Stephens CBE; New York Times-bestselling author Simon Winchester OBE; patent attorney and cactus enthusiast Dr Adrian Bradley; criminology professor and blues musician Ben Bowling, writer and broadcaster Oliver Soden, and former President of the UK Supreme Court Baroness Hale of Richmond.
Register
Please register to attend this event on Zoom. We will send you the Zoom login details and password 48 hours in advance of the event.
---
Please support the work of the Trollope Society
We are working hard to raise the profile of Anthony Trollope. Our resources are limited, and our ambition great, so we're asking for your help. You can donate using your credit card, debit card, or PayPal account. Transactions are handled by PayPal and are subject to a transaction fee paid by the Trollope Society.