Fanny Trollope and Anti-Slavery Abolitionists
–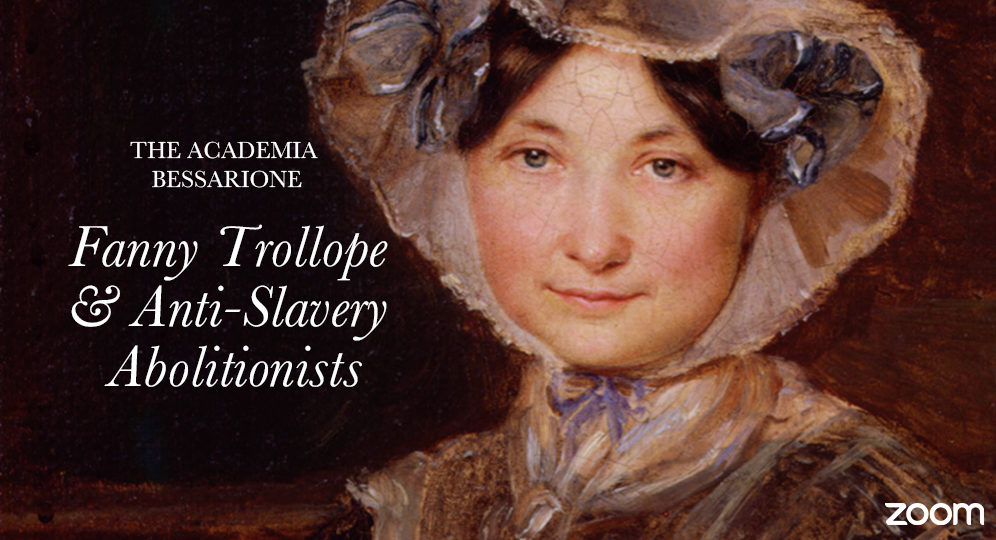 Join the the fifth meeting of The Academia Bessarione on March 2nd at 7.00pm GMT (8.00pm European time) to discuss Fanny Trollope and anti-slavery abolitionists connected with Florence.
The Academia Bessarione takes its name from discovering sixty years ago a scholar's house in a garden, and coming to realize it was Cicero's definition of happiness as having a library and a garden. We sought something more fluid than a print publication, one that allowed for human voices, productive interactions among scholars, coming together as they did in Renaissance Academies and also in Parisian bluestocking salons, where women as well as men, bass and treble, could be heard. We use the Cardinal Bessarion and his casina in Rome, echoing Cicero's definition of happiness as a library in a garden and began a Zoom discussion group in November 2020.
Details
Jonathon Jefferson Whitlaw by Fanny Trollope
Published in 1836, this novel with its radical anti-slavery message is one of the key texts in the history of the abolition of slavery in the United States. It pre-dates Harriet Beecher Stowe's Uncle Tom's Cabin by more than 15 years and is said to have influenced the later writer in her work. Unjustly neglected and out of print for many years, it tells a powerful tale of the maltreatment of slaves in the South and the passionate hatred that emerges between those whose fortunes depend on the continued suffering of the slaves they own and those who are trying to fight against the trade.
Address: The Academia Bessarione Zoom Meeting - Registration required