Trollope in the Oxford World's Classics Series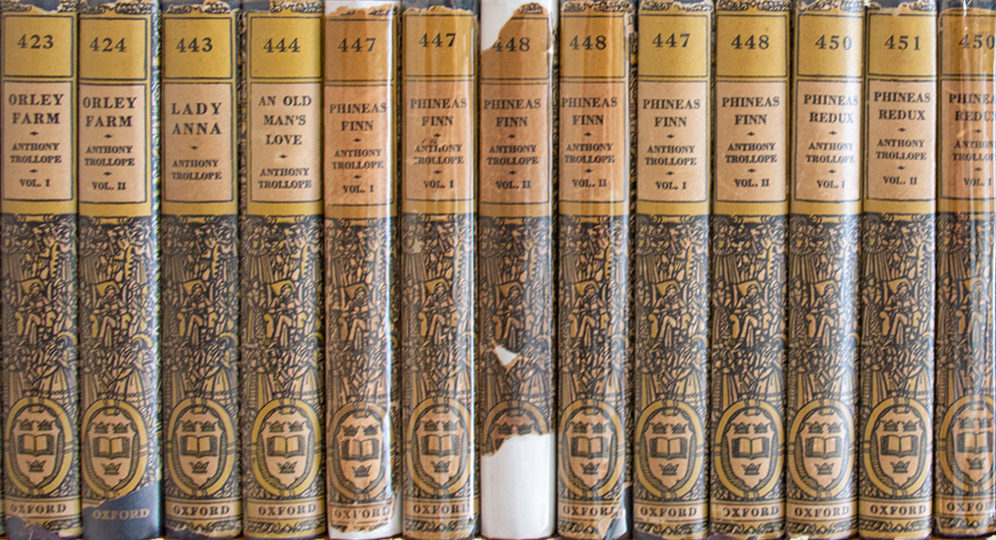 by Stephen Butler
The earliest inscription of mine I can find in one of my Trollope World's Classics is a pencil note in 'Mr Scarborough's Family' which simply says 'SHB '75 75p' which I suppose was a reasonable amount for a teenager to have spent in 1975[1]. As I look at it now, it is a small (6"x4") blue blind-stamped book without a dust jacket in the Oxford World's Classics series. I also have others from the same year such as The Vicar of Bullhampton priced 50p and so on. None of them have dust jackets.
My collecting was inspired by my father, an avid Trollope reader, when we would spend a Saturday afternoon in the 4-storey Victorian building of 'Commin's Bookshop'[2], in Old Christchurch Road, Bournemouth. The greatest gift my father gave me was to not to spend Saturday afternoons going to football.
Before that time, growing up in West Africa, I recall as a young boy, my father also had a shelf or two of Trollope in The World's Classics which he read through; also sans dust jackets. How many ex-pats took these little volumes around the world with them on their travels? There is certainly a nostalgia for me about these editions even though I was too young at the time to read them.
Since those days I have become slightly obsessive about my Trollope World's Classics collection and, although it is becoming harder, I still get a frisson of excitement when I find a new addition to my library; an unknown dust jacket, a previously undiscovered edition or something unknown to the bibliography of the World's Classics. And now I read them as well as collecting them.
The World's Classics was a series started in 1901 and originally published by Grant Richards. It was then passed on to Oxford University Press and re-developed by Henry Frowde just four years later, the series being redesigned and expanded. It is unnecessary to develop a history of the series here; that has been done elsewhere.[3] Suffice it to say here that Charlotte Bronte's Jane Eyre was Number 1 in the series and the marketing blurb for the whole series stated that it was "Bound Books for the Million. The Last Word in Cheap Literature."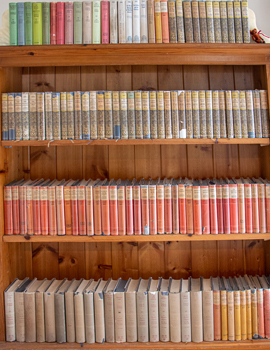 The first novel by Anthony Trollope published in the series was No. 140 The Three Clerks, intro. W. Teignmouth Shore, xvi+567pp., 1907. This was subsequently reprinted in 1929. [DJ Standard  typographic design with Oxford crest/32x34mm portrait of Trollope on rear flap/ black and white on red, 1929 [1939]. It is obvious, but worth noting, that a title retains its World's Classics number in all editions and subsequent iterations. Most editions were set in type and then subsequently printed from the same forme of type, so the pagination will be exactly the same for an edition published in, say 1907 as its subsequent future editions in 1943 or 1956.
The Three Clerks was followed 11 years later in 1918 with the publication of The Warden which apparently was produced with a slipcase, although I have never seen this.
Doctor Thorne
[Doctor Thorne] The most popular book that I have written…The plot is good, and I am…led to suppose that a good plot – which, to my own feeling, is the most insignificant part of a tale – is that which will most raise it or most condemn it in the public judgement.
Anthony Trollope, An Autobiography
Let's take Doctor Thorne as an example of how the series has developed through the years. The most comprehensive bibliographical listing of The World's Classics I have found is the one by Godsey, Milburn and Murray. [4] As can be seen, however, there are some omissions and editions unknown to the authors of this bibliography. This is their entry for Doctor Thorne with some comments of mine regarding their missing information:
Doctor Thorne, vii+569pp., 1926. [DJI] [?] (The jacket was unknown to the authors but is illustrated on my copy below.)
(There is a 1934 'Globe' edition missing from this bibliography, my copy illustrated below.)
Var: Ronald Knox of Barsetshire map on rear endpaper, 1943.
[DJ Standard typographic design with Oxford crest/ black and white on red,1947]
[DJI Lynton Lamb/ lady with umbrella/ black and white on bronze, 1956]
Var: The Barsetshire Novels (World's Classics) edn, 1981. [?]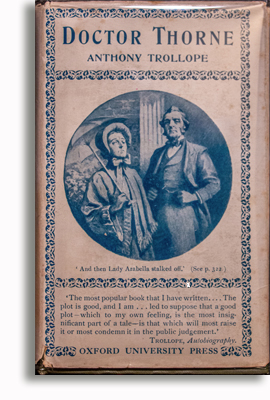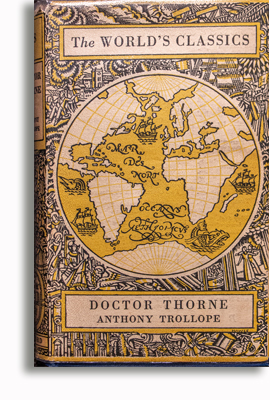 Around 1915 the first illustrated dustjackets start to appear, printed in blue ink on a white background with an illustration of either the author or a scene from the book, as per the cover of Doctor Thorne (above). The bindings were green with a gilt decorated spine and are still commonly found but, alas, without the original dust wrappers which have become scarce.
I recently heard of a lady in the 1960s who, as a girl, collected Enid Blyton books and disposed of the jackets. Her books today, instead of being worth tens of thousands of pounds are worth a fraction of that.
In 1926 the series adopted a 'Globe design' with a map of the world spanning the front and rear covers of the jacket. This design lasted for about 11 years, although I have editions with World War 2 stickers on the inside flap which means they were still being sold in 1939 and probably into the 1940s. You can see the dust jacket of Doctor Thorne in this series (above).
Across the inside spread of the jacket was a listing of many of the titles in the World's Classics series and the binding was altered from the green to a smooth blue blind-stamped buckram with the title neatly embossed in gilt on the spine. This is the binding most commonly recognised by Trollope readers of this series.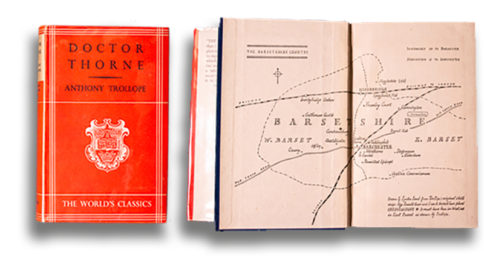 From 1935 the design of the jacket changed again, this time to a red background with a plain typographic title and the Oxford University Press crest. This series, for the Barsetshire novels, had a double page map showing The Barsetshire Country printed on the front endpapers as shown above.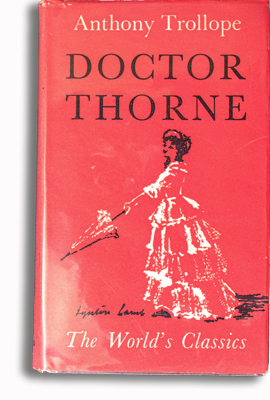 It wasn't until the 1950s that the jackets became illustrated again, in the case of Trollope titles, with charming illustrations by Lynton Lamb against a solid colour background.
A brief note here about an edition which was printed in grey dust jackets and traversed the two editions above from the late 1940s to early 1950s, but, alas, didn't include our Doctor Thorne. These were primarily Double Volumes (in 1) and were printed on India Paper (a very thin 'rizzla-type' paper). Most of these editions had previously been printed in 2 volumes (either globe or typographic) and were now printed as 2 volumes in 1. For the purposes of completeness, here is an illustration of the grey edition and the original 2 volume 'Globe' edition.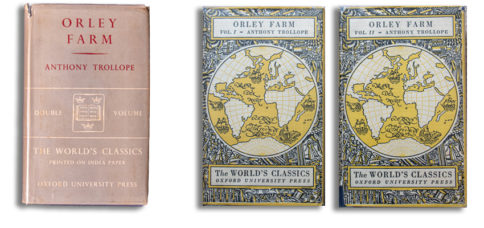 But is it The World's Classics? Not as we know it
I have to make mention of the 'new' World's Classics which were renamed in 1998 as Oxford World's Classics. Today they are published in paperback, firstly in the blue banded design, then the red and white design and a recent updated design shown below, and are hardly recognisable as the grand-daughters of the original editions published in 1901 by Grant Richards. But the line continues and a new generation will discover the Trollopian characters that we all know and love.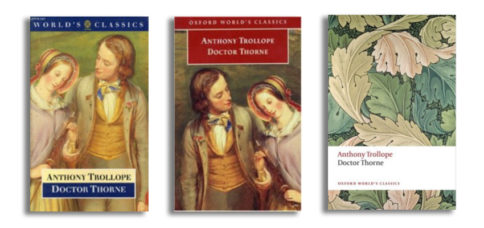 Why I love this series
I started collecting Trollope in The World's Classics series long before the publication of the Trollope Society edition and, although the Oxford series is comprehensive, it is not, like the Trollope Society, exhaustive. Oxford claimed to have published more Trollope titles than any other publisher through their World's Classics and that claim was made in the early days of the series back in the 1940s.
For many readers the physical book adds to the reading experience. So it is for me. The experience of reading Trollope is enhanced by doing so, exclusively as it happens, in the pages of the World's Classics series. Portable and light (I can carry it in my pocket on my train journey to London). Typographically just-right (printed in Baskerville 10pt, perfect reading font). Sits in the hand (it can be held in one hand with a glass of something in the other). And the smell of pre-war bookshop is an additional pleasure as one is transported further back into Victorian England.
But, all of that aside, there is also a shared experience of reading books that were enjoyed by people discovering or re-discovering Trollope's novels in the 1920s, or through the war years and imagining what they were thinking about Lady Anna as I read the same book as they were reading and get to know the same characters as if we are bound through the years by a common love of the Trollope family. The inscriptions, the dates – who were they? Who did they belong to? A birthday gift from an Aunt. A holiday read.
And maybe one day, someone will find a copy of Mr Scarborough's Family and wonder to themselves "who was SHB?" and "how much was 75 pence worth in 1975?"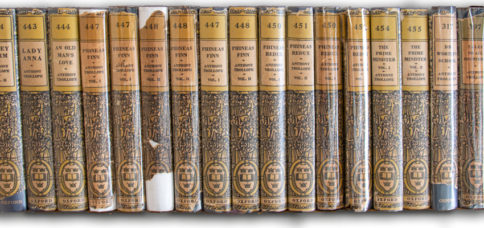 ---
Stephen Butler is an Antiquarian Book & Manuscript dealer who will sell any book in his vicinity with the exception of his own collection of Trollope in The World's Classics. He lives in Buckinghamshire with his (very tolerant) wife and a house filled with books and manuscripts.
[1] According to 'Measuring Worth' website 75 pence in 1975 is the equivalent to about £11.54 in 2021.
[2] Commins was originally owned in the 1930s by the renowned bookdealer, Alan G. Thomas.
[3] https://sites.owu.edu/seriesofseries/worlds-classics/
[4] "THE WORLD'S CLASSICS" and "OXFORD WORLD'S CLASSICS": A Guide to the Clothbound Editions (and Their Variants) Compiled by J. Godsey, Geoffrey Milburn and Nicholas Murray.