Barchester Musings – Notes on Dr Arabin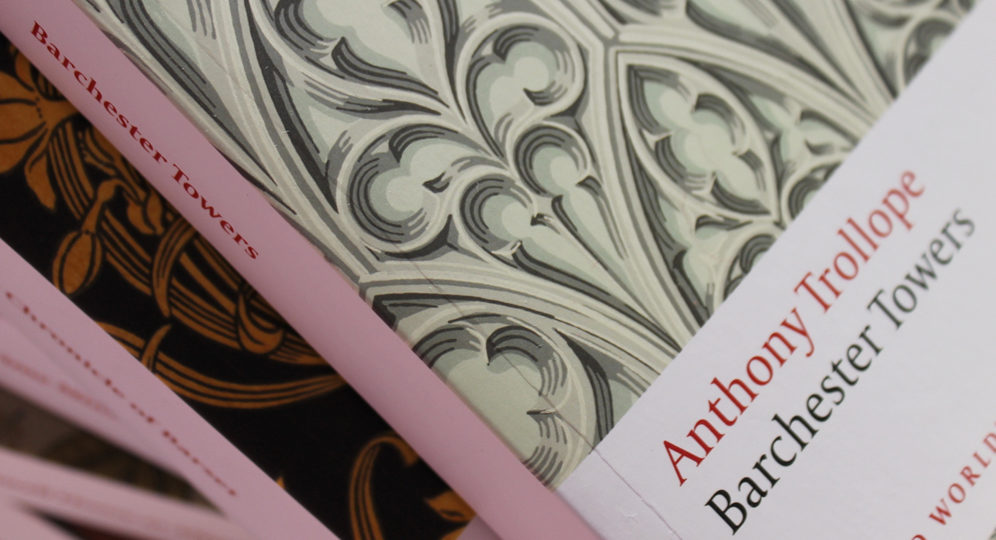 I have read Barchester Towers five times and have promptly forgotten the details each time. I am left with only a sense of easy reading and good construction. I am fascinated by the Oxford Movement (also known as the Tractarians), young men who turned the C of E upside down, and by the way middle-class Victorians were mesmerised by religion. There is nothing – neither football, nor sex – that occupies our minds in quite the way the subject occupied middle-class Victorians – it is there in the books of Trollope, his mother, Mrs Humphrey Ward, Mrs Margaret Oliphant, whose work includes a series similar to Barchester, and in paintings, particularly those of the early Pre Raphaelite Brotherhood, in politics, witness Wilberforce's long campaign to outlaw slavery.
So I volunteered to examine the role of Mr Arabin – later Dr Arabin when he becomes dean of Barchester. Trollope pretends humorously he does not know how deans suddenly become doctors. But really he would know that new bishops and deans were awarded a Lambeth doctorate by the Archbishop of Canterbury. This lasted until the 1960s.
Of course, I had made a mistake about Dr Arabin. He has only a slight role though important. So I thought I would look at the effect he might have, as a High Churchman, on the close at Barchester.
Trollope gives us four strands of churchmanship. The clergy of Barchester are said to be High Church in the old 18th century way – now known as High and Dry. They are Whiggish, not Tory, easy-going, gentlemanly, unenthusiastic, undogmatic Anglicans. Unenthusiastic merely means they prided themselves on their logical and learned approach to religion, in contrast to the dissenting ministers' blood and guts.
They believe in the apostolic succession, the church's corporate authority and the redemptive power of the sacraments. An 80-year-old dean is right for them.
Archdeacon Grantly is of their number but he is in touch with modern thought and knows how to annoy Low Churchmen.
Bishop Proudie is one sort of Low Churchman, essentially old-fashioned. He is broad-minded and liberal in doctrinal matters. He was an opportunist in his earlier career, without clear church principles and ready to bear with the idolatory of Rome, and go hand in glove with Presbyterians.
Mrs Proudie and Mr Slope represent another sort of Low churchmanship. They believe in the supreme authority of Scripture, the importance of Sunday or Sabbath worship, private judgement in religion, and justification by faith. They distrust what Mr Slope calls outward ceremonies that have become almost barbarous. These include church music and decoration. Inward conviction is everything.
But what really upsets the clergy is Mr Slope's – and Mrs Proudie's – bad manners in spurning the archdeacon and Mr Harding and abusing the cathedral's practices in the sermon. This is what the Tractarian Hurrell Froude called the gentlemen heresy – the Anglican tendency to value urbanity more than holiness.
By the way, Mr Slope and Mrs Proudie's assault on Sabbath trains followed an Evangelical campaign in 1855-6 to limit Sunday trading and stop military bands playing in the parks. The effect on Sunday trading lasted until about 30 years ago.
Then there was Mr Arabin's High Church ways. The silk waistcoat was a badge of High Church-manship as the broadcloth was of the Low Church. So were crossing oneself and writing S for St in, for example, S George. There were more important badges.
The Georgian Church, which was not as bad as the Tractarians painted it, was quiet and devout with only about 10 per cent of churches needing repair. Compare that with today's churches in need of repair. The congregations, led by choir bands, sang or chanted such parts of services as the psalms, the Venite and the Te Deum, but had few hymns – which they loftily left to the Methodists with their Tate and Brady tunes. Professional cathedral choirs would often sing anthems.
Into this world came the Tractarians and their pals the Cambridge ecclesiologists, who began as a group of undergraduates led by the future hymn writer, Dr J M Neale. They were concerned about an increasingly non-Anglican Parliament – now including dissenters and Irish Roman Catholics – presuming to govern the C of E and the Pope's new arrangements for the Roman church in England. As so often, these new ideas did not spring up fully grown. There had been reformers already, notably a loose grouping called the Hackney Phalanx. Yes, the Hackney Phalanx.
By about mid-century, the battle to build churches in the medieval Gothic manner and re-order the Georgian churches had been won and the Evangelicals were losing their spiritual leadership to the Tractarians. The second half of the century was to be a battle for what was called ritualism or, as a critic called it at St Peter's, Pimlico, "mummeries of a Popish nature." It produced a number of riots against Tractarian clergy and a number of court actions.
Dr Arabin would have insisted on the rubrics of the Book of Common Prayer being followed. He would no doubt restore the prayer of humble access, dropped or shortened by most Georgians, he or his successors would bring in more frequent communion services until there was a daily communion service in most cathedrals. He would have called the communion table the altar and would have brought in candles and the other altar dressings well known to us. He would have introduced a cross – incredibly, a symbol that was regarded as so Popish that some bishops refused to consecrate new churches with a cross in evidence.
I was surprised that Mr Slope wore a surplice, which was not common at that time. That was one of the many battles fought between the Tractarians and the Evangelicals and Mr Slope showed his contempt for the garment by not keeping it spotlessly clean.
Choirs were starting to wear cassocks and surplices but that would be a long way ahead for Barchester Cathedral. Salisbury's men put on a surplice in 1890 and the boys a little later. The Anglicans also began to learn from the Methodists and write and sing many hymns.
In the 21st century, we do not read the clues. But Trollope gave his readers all the clues they needed.
They knew about the Pluralities Act of nearly 20 years before, which confined clergymen to no more than two livings and strengthened the bishop's power to enforce residence. Hence the Stanhopes were made to come home. Readers knew about the Dean and Chapter Act of 1840, which confiscated the revenue of non-resident prebendaries. Life interest was maintained so that Dr Stanhope was not an anachronism but an increasing anomaly.
And Dr Arabin, as a High Churchman, may have flirted with jail: four clergymen were jailed for breaking church rules. The greatest sin was to have a stone altar, sign of sacrifice and thus Popery, or for the clergyman to stand with his back to the congregation when celebrating the communion in defiance of the Prayer Book's injunction to stand to the North.
I am afraid that the great Cardinal Newman would have despaired of Dr Arabin, however. Newman, though the best judge of a wine in Oriel College, deplored self-indulgence. Arabin's longing for a family was just that.
The difference between his age, 40, and Mrs Bold's 26 was quite normal in the 19th century. A man was expected not to marry until he could support a wife and a college tutor who wanted to marry would apply to his college for one of the livings in its gift – remember, the purpose of Oxford and Cambridge was to supply Anglican priests – then wait around until one turned up.
And Mrs Bold followed him into the High Church party. Why did she smile when the Archbishop of Canterbury was mentioned? The answer lies in the story of John Bird Sumner, the archbishop. He was inclined to the Low Church and he clashed with Bishop Philpott (splendid Victorian name) of Exeter over the appointment of a clergyman whom Bishop Philpott declared was a Calvinist because of his view on the meaning of baptism.
The vicar took the bishop to court and lost. But he won on appeal and Dr Philpott promptly announced that he would excommunicate the Primate of All England or anyone else who instituted the vicar. Somehow this was avoided and the vicar lived a long and quiet life in his new parish.
To my mind, the jarring note of the book lies in the appointment of Mr Harding as dean, then Mr Arabin. Lord Palmerston, who became prime minister just before the book's publication, was not interested in religion but his son-in-law, Lord Shaftesbury, was the leader of the Evangelical party and he in effect appointed bishops and deans. In Palmerston's ten years as prime minister, 19 English and Irish bishoprics and 13 English deaneries fell vacant, almost all being filled by Evangelicals.
Mr Harding as dean? Just about. But Mr Arabin? I think not.
---
'Barchester Musings – Notes on Dr Arabin' was originally prepared for the Oxford Seminar Group on 8 December 2007 by Peter Blacklock.