How Anthony Trollope Spent Christmas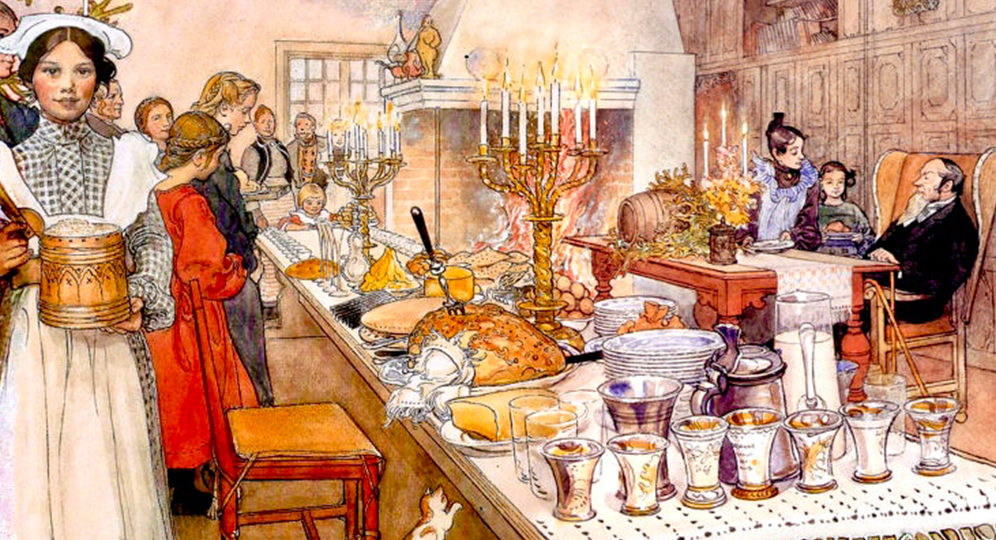 According to biographer Victoria Glendinning, Anthony Trollope not only did not like the celebration itself, but would go to bed on Christmas Eve pretending to be sick.
In direct contrast, biographer Richard Mullen, agreed that although Trollope hated writing about Christmas, the holiday itself "was an occasion not only of feasting but of profound religious experience".
I think I prefer Mullen's more realistic story that Trollope did in fact enjoy the festivities, going as far as choosing the joint himself from the butcher, along with the appropriate wines.
It seems that Trollope loved his food, and "a sirloin of beef a foot and a half broad, a turkey as big as an ostrich, a plum-pudding bigger than the turkey and two or three dozen mince-pies" was his idea of a perfect Christmas dinner. He would invite friends and relatives to join his family for the meal, and the table would begroaning with many side dishes.
On Christmas morning he would be woken early…at "dawn guests could hear the footsteps of Barney, the old Irish servant, who came up the stairs with a cup of coffee to awaken his master. If Trollope failed to heed this call, Barney was entitled to an extra five shillings in wages".
After dressing and lighting a fire Trollope settled down to his current novel, because even though it was aholiday, he did not shirk the daily writing task he set himself, attending church only after he had breakfasted.
He had a large happy family and the celebrations ran the full twelve days into January. Many guests were invited to join the celebrations and nothing was stinted in treating them to the best entertainment available.
When his children were young there was always a ball at night where Trollope enjoyed inviting everyone he knew to come and dance. There were card games in the evening and even ghost stories where he or another guest, would dress up to scare the children.
Boxing Day was devoted to hunting with his son Henry, who also enjoyed the sport, despite the fact that they both weren't very good at it, and often took a tumble in the ditches. "Once again guests might be awakened not only by the dawn call to work, but by their host's singing hunting songs or his loud shouts for missing clothes: Mrs. Sock where have you got to? Now Mr. Top Boot where is your twin?" Out with the others, and ever prepared, Trollope did not hesitate to take notes of how the hunt went to use in his stories.
But not all of his Christmases were as described above: Dr. Nicholas Shrimpton tells us that there was an ill-fated trip to Washington in 1861 where Trollope landed with a huge boil on his forehead and had to be treatedby a doctor. There was a war on and he was chafing because could not go out. There was also the possibility of a war between Britain and the North. "Untroubled by the great events unfolding around him, Trollope cheerfully turned up and enjoyed a convivial dinner in the company of men who, that very morning, had been deciding whether or not to go to war with the country of which he was a citizen".
Janis Zroback
Illustration from Mrs Beeton's Book of Household Management, 1861