The Wooden Legged Postman: Anthony Trollope, disability, and the rural postman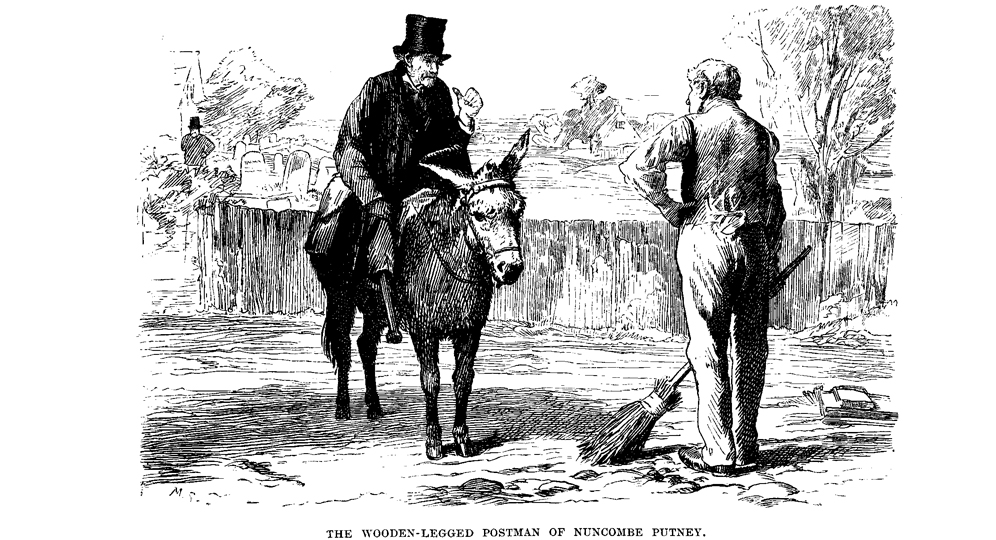 This article was first published on Addressing Health on 24th April 2020.
Today would have been Anthony Trollope's 205th birthday. As Trollope ranks amongst some of the most famous literary figures who enjoyed stints in the Post Office (see also: William Faulkner), we want to use today to think about what his novels can tell us about health, wellness, and the Victorian Post Office. Although perhaps better known for his role in popularising the now iconic cast-iron postbox, he provides the historian of medicine with some unique insights into the health of the rural messenger or postman (the latter term would only come into vogue in the 1880s).
Born in 1815, Trollope commenced his work at the Post Office in 1834 when he was nineteen years of age. He despised his early years of drudgery and debt as a clerk at the Post Office headquarters in St Martins-Le-Grand in London, and leapt at the opportunity to undertake work as a postal surveyor in the West of Ireland. The duties of a surveyor at this time involved deciding the best and most efficient walking route for the postman – a role that, as we shall see, gave Trollope time to reflect on questions surrounding efficiency and disability in the countryside.
Trollope went on to do further work as a postal surveyor in England after he left Ireland in 1859. He used his work to provide him with a healthy income and give him an opportunity to visit interesting local sites and haunts, some of which he incorporated into his fictional works. He often walked the long, sometimes arduous routes of the rural messenger himself. Trollope's love of place – nourished through his work in the Post Office– is reflected in his novels, which reveal the ways in which postal employees and the Post Office were woven into the social fabric of the Victorian countryside.
His works show the kinds of qualities that were both praised – and derided – in the figure of the rural messenger. "There is a general understanding," Trollope writes in He Knew He Was Right (1869), "that the wooden legged men in country parishes should be employed as postmen, owing to the great steadiness of demeanour which a wooden leg is generally found to produce". Trollope ties this into the problems of rural employment "as all private employers of labour demand labourers with two legs, it is well that the lame and halt should find a refuge in the less exacting service of the government". Whilst disability aids such as prostheses were seen to signal a certain steadiness of character, however, they also frustrated attempts to modernise and speed up rural postal services – something Trollope had encountered first-hand in his work as a surveyor. He describes the wooden legged postman of Nuncombe Putney as "very slow in stumping around the village". An illustration included of the postman reinforces this sentiment, showing him and his faithful, tired-looking donkey pausing in the middle of his route to gossip about a stranger in the village.
Trollope's depiction of the rural postman helps to flesh out much of the work we as a project will be doing on the lived experience of postal employees. We have more work to do to expand on our initial findings on how the health of the rural postman differed from their urban counterparts. In 1869 – the year Trollope published He Knew He Was Right – around a hundred rural messengers took retirement from the Post Office. Many of them due to old age, but others had conditions that were obviously impacting upon their physical mobility: recorded causes include weak ankles, sciatica, injury to the hip, and rheumatism. There are men like George Wright Appleyard, born in Leeds in about 1813, who retired in 1869 due to 'lameness' at the age of fifty-six. Unlike Trollope's postman, Appleyard seemed either unable or unwilling to adopt mobility aids so that he could continue on with his work. Two years after his retirement, the 1871 census records Appleyard as a pensioner living in Selby. It appears as if his daughter was helping to supplement the family income as a winder in a textile mill, and they had taken on a lodger, too. We can only guess at the kinds of pressures the Appleyard family might have had to face when George had to retire and his annual salary of around £39 was replaced by a pension of around £9. So whilst many rural messengers were able to do their job 'wooden legged' – as in Trollope's novel – many had to retire because of their limited mobility, and their families clearly had to adapt to such changing circumstances.
Throughout this project we will be looking for other popular accounts of Victorian postal employees to present a richer, fuller account of what life was like for workers both during their time in the Post Office, as well as after retirement. Do any fictional postal workers come to mind? If so, let us know by e-mailing us at addressinghealth@gmail.com or tweeting us at @postalhealth and we'll get reading!
(With many thanks to Alex Obradovic for his help during the writing of this blog)
---
Laura Newman is Postdoctoral Research Associate on Addressing Health: Morbidity, Mortality and Occupational Health in the Victorian and Edwardian Post Office. This is a three-year, Wellcome funded project exploring the timing and geography of ill health in the Post Office. You can visit the project website here or get in touch with the team via Twitter @postalhealth.
The link to the project website is: https://addressinghealth.org.uk